Battlefront II is so big the dev team is running out of disc space, plus deats on the single-player campaign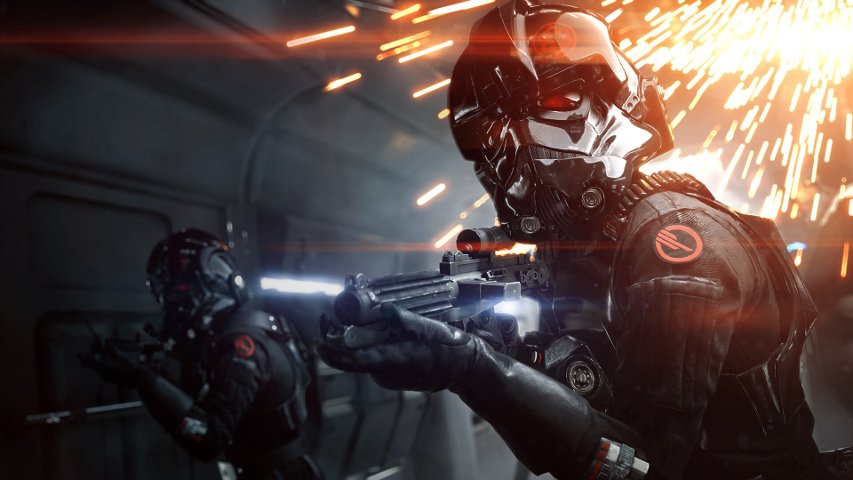 Note: SWGO has moved to a bi-weekly coverage schedule, with news summaries coming on Wednesdays and Saturdays. These summaries have replaced coverage of news as-it-happens. I outlined my reasoning this past week, but just wanted to give a heads up to those that hadn't heard yet!
The Battlefront II dev team is having trouble fitting the game onto discs
According to Battlefront II's associate design director Dennis Brannvall, the game is almost too big for its physical disc copies:
"This is the biggest game most of us have ever worked on," he wrote in response to a Redditor suggesting the team is holding back content. "It's tricky to balance, because the galaxy is too big to fit into one game to the quality that we want to hit. We're actually running out of disc space for the box copies."
For those keeping score at home, a dual-layered Blu-ray disc (which can be used by the PlayStation 4 or Xbox One) is able to store roughly 50 GB. As a reference, EA's first Battlefront was 19 GB on Xbox One and 23 GB on PlayStation 4.
Brannvall further wrote:
Prioritizing what we work on for launch and what things we look at for later is very tricky. Should we base it off amount of movies made? The oldest? The hottest era right now? The best movie based on reviews? Or should we just ask reddit and hope they represent the remaining 99.9% of people who'd want to pick up the game?

The strategy that made the most sense was to base the sequel on the first game, meaning anchored in the OT (and the DLC's that not everyone got to play) but move in equal pace both backwards and forwards in timelime from there.

Post-launch, we'll let the community as a whole decide where we go. Obviously, we're likely to run out of things to add from the new movies quicker than the prequels, but every time a new Star Wars movie comes out, a lot of people seem to want to play characters and locations from it. So a healthy balance might be the way to go there too!
This is definitely good to hear. I know I don't envy the developers having to choose what makes it in to the game's final release. My hope is that the game remains popular enough that a year or two down the line, it eventually gets the proper heroes and maps to please almost everyone. I have a feeling some characters and locations are certainly going to be left out at launch.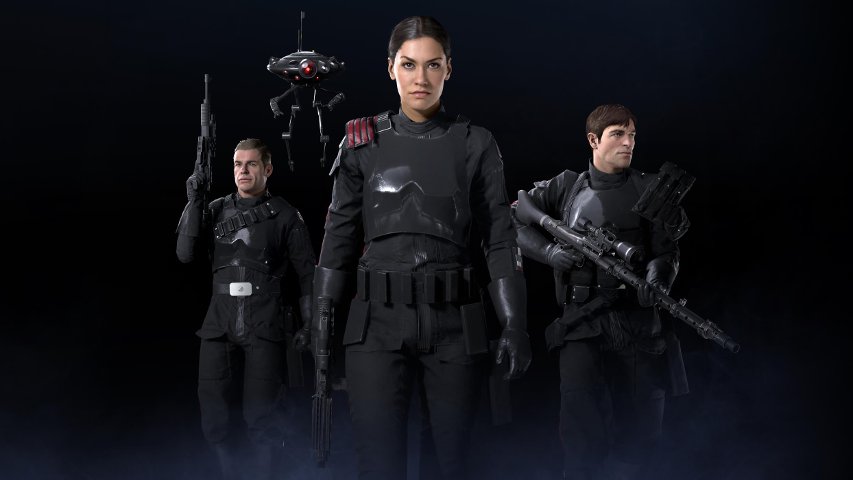 Details on Battlefront II's single-player campaign arrive
With the gaming panel at Disney's D23 expo happening earlier today, this week for Battlefront II was focused on the game's single-player campaign's elite Imperial group of soldiers, Inferno Squad.
First a new page on the official website arrived. No new details are really in the text of the page; however, it does feature the two images above. While the top image is quite epic, the second image is probably the more interesting of the two.
In the second image, we can see the campaign protagonist and Inferno Squad leader Iden Versio (played by Janina Gavankar) flanked by two of the squad's members. On our left is Gideon Hask (voiced by Arrow alum Paul Blackthorne) and on the right is Del Meeko (voiced by T.J. Ramini). The image shows Gideon holding an A280-varient blaster (possibly already shown off in April) and Del is wielding what may be the DLT-19X blaster.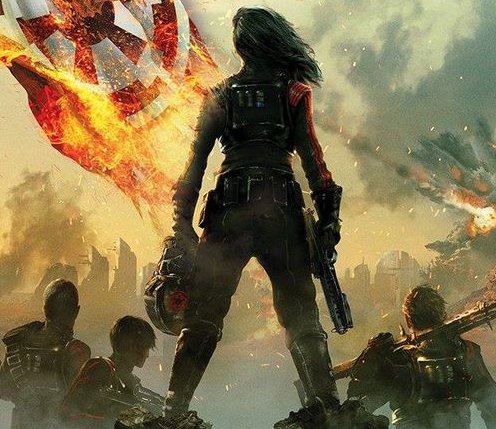 Next, an excerpt from the Inferno Squad novel released on StarWars.com. This excerpt explains the Inferno Squad's creation. It also gives us the names of Del Meeko and Seyn Marana, who is apparently on the novel's cover (shown directly above). However, she hasn't been included in the promotion of Battlefront II. If I were to guess, Seyn will die at some point in the novel, but that's just me speculating there!
As a reminder, the Inferno Squad novel is slated to arrive on July 25. The book takes place just after the Rebels destroyed the first Death Star and will tell the tale of the squad's early happenings.
Finally, the D23 gaming panel was held earlier today. At this event, we got a behind-the-scenes trailer for the Battlefront II campaign that had a few new images and concept art. Check it out below:
I'll do a full-on breakdown next week, but here's a few quick bits I noticed:
There's a Star Wars AR app coming
Also at the D23 gaming panel, an augmented reality app for Star Wars was announced. This app will use a headset developed by Lenovo and will allow users to play holochess and use lightsabers. Not really many more details were revealed, but this looks like it could be interesting.
Augmented reality, or AR, allows digital images to be projected onto a view of the real-world. For instance, the filters on apps like Snapchat or the mobile game Pokemon Go use a form of AR. This is a fairly new technology, but it's really blossomed in the recent years.
The original Battlefront is currently hosting a Double XP event
For those that haven't heard, EA's first Battlefront is currently holding a double points event. This event runs though tomorrow (Sunday, July 15). I assume most of my readers have already maxed out their points, but if you haven't, this could be a great opportunity to unlock some of those higher-level skins!